Little CJ

Vital statistics
Title
Gender
Male
Race
Alien
Faction
Alien
Status
Alive
Location
Space Ship/Somewhere in space
Template documentation
(for the template shown above, sometimes hidden or invisible)
Little CJ, sometimes affectionately called Little One (or by his fan name Oliver), is a non-human who formerly lived in District 9. He is the offspring of Christopher.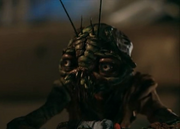 Biography
[
]
Little CJ, as far as we know, was born on Earth. He appears to be too young to have arrived on the mothership in 1982. He is the non-human equivalent of a small child, perhaps five or six years old, with a näive view of the world, and an expanding vocabulary. However, he is much smaller than a human child of the same age. It is possible that non-humans go through a growth spurt during adolescence just as human do. However, it is unknown whether a growth spurt occurs or if they grow steadily into adulthood. He has a strong trust for Wikus, primarily because of his alien arm, a trait his father tried to discourage. Little CJ is also very intelligent, being able to remotely operate the mothership as well as remotely powering up a battle suit for Wikus to use.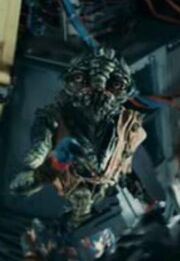 Quotes
[
]
CJ: How many moons does our planet have?
Christopher: Seven.
CJ: This planet only has one. I can't wait to see our planet. It's bigger than this one... isn't it?
(Christopher turns off the holographic atlas)
Christopher: Enough.
CJ: We go home now?
Christopher (full of regret): Not home, no. This is where we must go.
(Christopher shows CJ the District 10 Brochure. He points to a tent on the front page)
Christopher: See that tent there? That might be ours.
CJ: I want to go home!
Christopher: We can't go home. Not anymore.